Mexico is a paradoxical country, where people can at times be brusque, sharp, smart-alecky, but more often show an elaborate, amiable courtesy.
México es un país paradójico, donde la gente a veces puede ser brusca, acérbica, listilla, pero más a menudo te tratan con una cortesía elaborada.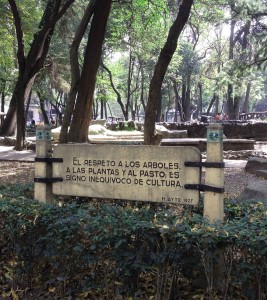 In the Colonia Condesa, a district of largely-early 20th-century houses, many art deco-inspired, that's one of the most attractive, easygoing, tranquil and nowadays, consequently, most fashionable in Mexico City, there is the Parque México. It occupies the site of a former racetrack, which had taken over in turn part of the former estate of a Spanish Countess, the Condesa who gave the district its name. Oval in shape, following the form of the track, it's one of the best-used green spaces in a city that doesn't have many of them, occupied by strollers, readers, families and a whole industry of young boys who walk the dogs of affluent local residents.
It was made into a park in 1927. Its builders, as well as filling it with benches, art deco fountains, a fine art deco clock and an open-air theatre named after Charles Lindbergh (who visited Mexico City in December 1927), scattered around the park a series of large plaques with suitably courteous advice to users on how best to employ the new public space. With a charm and style that's unique…
En la Colonia Condesa, un barrio de casas la mayor parte de la primera mitad del siglo veinte, muchas en estilo art deco, que es uno de las zonas más atractivas, tranquilas y, por tanto, actualmente, más deseable en la Ciudad de México DF, hay el Parque México. Ocupa el terreno de un antiguo hipódromo, que se construyó a su turno en parte de la antigua finca de una condesa española, la que dió su nombre al barrio. De forma ovalada, siguiendo las líneas del hipódromo, es uno de los espacios verdes más apreciados de una ciudad que no tiene muchos, aprovechado por paseantes, lectores, familias y toda una industria de chicos que sacan a pasear los perros de los residentes locales.
Se construyó el parque en 1927. Sus constructores, además de llenarlo con bancos, fuentes y un gran reloj art deco y un teatro al aire libre dedicado a Charles Lindbergh (quién visitó a México DF en diciembre de 1927) esparcieron a lo largo del parque una série de grandes señales en cemento con consejos de urbanidad a los usuarios, formuladas, naturalmente, con cortesía exquisita, sobre las mejores maneras de comportarse en el nuevo espacio público. Con un encanto y estilo únicos…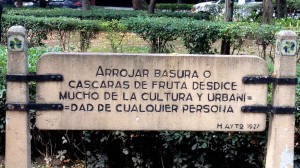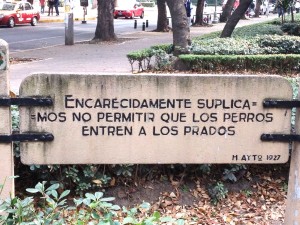 And maybe the best of all…
Y quizás el mejor de todos…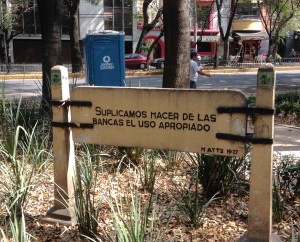 Of course this all has an educational function…
Por supuesto todo esto también tiene funciones educativas…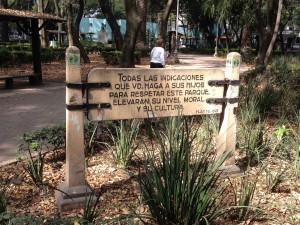 And sets out to let us know that this is everyone's park…
Y tratar de informarnos de que el parque es de todos…