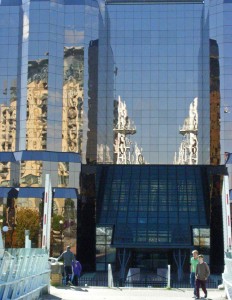 Went to Manchester a couple of weeks ago, for the first time in years. And I was amazed: what's amazing is just how new so much of it is, and how shiny new its new bits are. Go to Salford Quays (OK, not technically Manchester, but obviously part of the same entity) and you enter a smooth world of gleaming surfaces, soaring verticals, neatly clipped lines of trees and waterside vistas, to catch the breeze and clear the head. It sends out an air of perfection, of looking its sharply modern best, more than most urban redevelopment areas ever manage. It was also peculiarly empty, but since this was a sunny Sunday afternoon maybe this was unfair.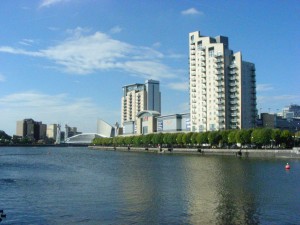 The new Salford Quays district seems built to stun and dazzle, and it does, demanding you go wow and then say it again. And there's no point trying to be cynical about it, it does. Its shininess has not yet been rubbed off at the edges. The newest centrepiece is MediaCityUK, now home to much of the BBC and soon to host large parts of ITV as well. Look upon it and you can never think we're in an age of austerity. What other city in Britain has a MediaCity, and without spaces in its name too? Walk around it and you can't help but feel more sophisticated, which is maybe a central purpose of all modern design.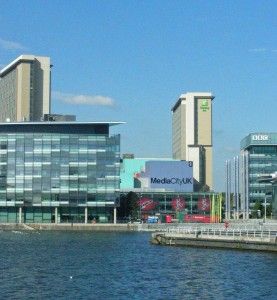 Across the quays are the Lowry arts centre, and the giant abstract metal forms of Daniel Libeskind's Imperial War Museum-North. Inside, as an exhibition space, the slightly cavern-like IWM-N is a tad more conventional, but as a sight it's certainly spectacular. Between all this are white bridges of soaring curves.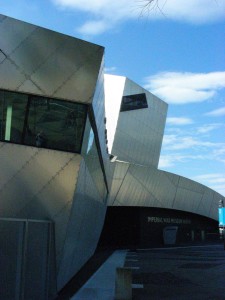 In other parts of the city the newness is less enveloping but still there. Manchester (with Salford) looks like Britain's foremost exponent of vaguely Barcelona-influenced integrated urban redesign. It even has the UK's only Santiago Calatrava-designed bridge (one that has attracted much less criticism than his more grandiose projects). It has always had its own architectural look, of massive ornate Victorian brickwork and equally massive but plainer art deco, but around these buildings an inter-connected structure has been installed, one thing leading to another, giving it – on a physical level at least – a look of joined-up coherence very different, for example, from the formless chaos of fragmented London.
For years Manchester has pedalled a fantasy-vision of itself to itself, the rest of the UK and the world (I understand it's still an institution in Canada, and pretty big in Australia and New Zealand too) in Coronation Street, an ideal vision of cosy old-industrial neighbourliness, low horizons, muddling through, bizarre melodrama and getting pissed and having sex with someone who lives two doors away. Its tangled and bizarre relationship to modern Manchester is even weirder when you see it. You can see what look like Corrie characters on the street (big hair, door-knocker jewellery, pylon heels) but around them there are hordes of Chinese students, or Scandinavian Manchester United fans all in their red shirts who give the impression they fly over for every home game. But, it's typically English after all, even when a place is new, not to focus on the new but to romanticize the old bits.
And among the newness, of course, there are many parts of the old Manchester still there. There are old pubs and giant Victorian precipice-walls that seem to be hoping redevelopment won't have noticed them…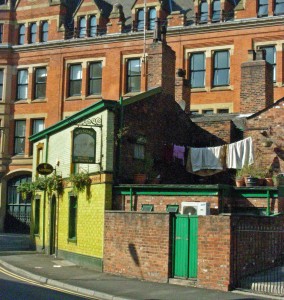 And pub bars for contemplating infinity….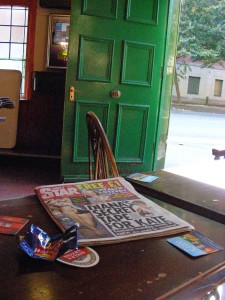 In south Manchester there's also plenty of the angular, magnificently bleak canal and warehouse sites that used to provide the city's most dramatic architecture….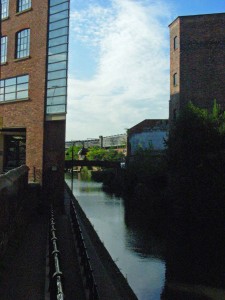 Fans of Coronation Street will also be happy to know that you can still find the corner of the canal bank, just a short way from the current Corrie set in the old ITV studios, where countless characters over the years have attempted murders, suicides, dumped bodies or just driven into the water. You could theorize for hours about the symbolic meanings of water, or write whole erudite theses on the particular imagery of canals in northern England, but presumably they do this because in Corrie-land the canal is seen as a dark, lonely place, where you can do dastardly things with no one looking, like in a 19th-century novel. Whereas this particular bend in the canal is now in the Castlefield conservation and redevelopment area, surrounded by loft-studios and buzzing waterside pubs. When Corrie moves to Salford Quays, within the next few months, future catastrophes should really also shift to the big canals there, so that at last the new Manchester could be in shot when the next residents decide they can't take it any more.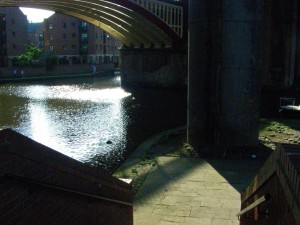 And even in 'old' Manchester the new is still not out of sight. Raise your eyes and you cannot avoid the Beetham Tower, the city centre's showpiece of modernity, tallest building in the UK outside London and a classic piece of the kind of hey-look-at-me modern architecture that defies you to think it should fall over…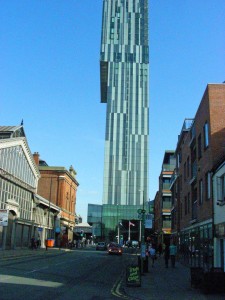 ** One other, temporary aspect of Manchester when I was there. A large part of the city centre, around the Convention Centre formerly known as the G-Mex (though everybody still seems to call it that) was taken over by the Conservative Party Conference, and so surrounded by metal fences 20 feet high. From inside, large blue banners blared out with a Union Jack and the slogan 'For Hardworking People'. Clearly, anyone left outside could only consider themselves indolent and feckless, and probably so lacking in moral fibre that their only response could be to chuck a brick.