Al Pacino has a store on Hornsey High Street in north London, N8. It says so on the sign, with a little image of Al in Scarface mode.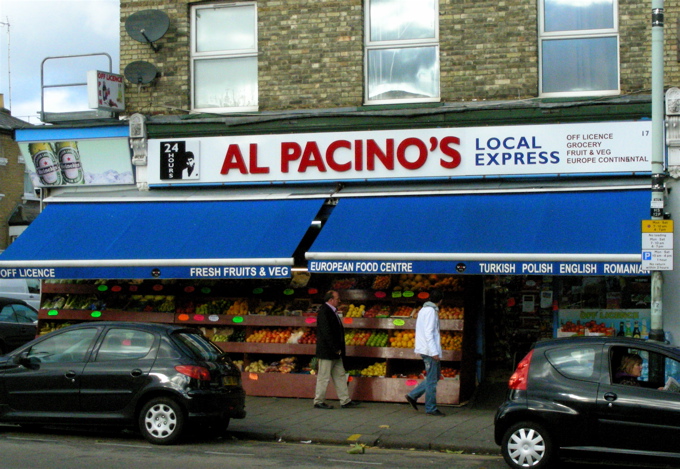 The owner, who's Turkish, says he got the shop off his cousin, who's a friend of a cousin of Al's who still lives in Italy. And that he himself went for a drink with Al in Italy when the star was back visiting his relatives. And that Scarface is his favourite picture.
I have no idea if any of this is true.
Though no connection with the Corleone family is to be implied at any time.
Apart from the name, the other big thing about Al Pacino's is that it promises to be always open, and doesn't even have a door, so it couldn't close even if the staff decided to try one night. I have to confess that despite having lived around the corner for some time, I've never actually slipped around there to get full confirmation that it's still going in the pre-dawn hours on a wet October morning. It's open '24 hours a day, 365 days a year!' he tells me. But, really, how many people come by here, say, at 4am on a Tuesday? 'Nobody!' he says just as proudly.
Hornsey High Street isn't really one of the all-night hubs of trendy 24-hour London, despite its fine shopping provision. So why stay open, even when it's freezing outside? 'We've got so much stuff outside, on the pavement, it's too much trouble to take it in and out, in and out, every night. So better to just stay open.'
A business practice that I bet has never featured in MBA courses.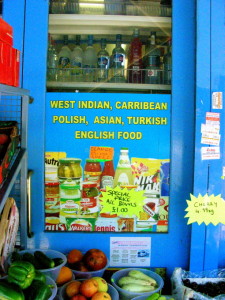 Another thing about Al's is that it's the United Nations of food. Originally Turkish, it has embraced every other nationality that's turned up in the area, so alongside the various odd varieties of Turkish biscuits you can get Polish pickles, giant bags of rice and five different kinds of chiles. Just so long as, apart from the fresh fruit and veg, it comes in packets.
Maybe Al should take an interest.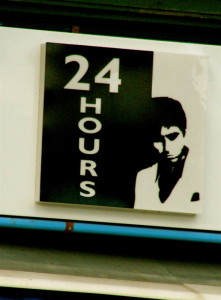 Update, December 2014: Sadly, this shop has now changed hands, and while it still does roughly the same things (stay open 24 hours a day, sell any food stuff you need including many different kinds of lentil) its new owner has boringly decided to changed the name to 'MAXXISAVE', which frankly represents a great defeat for the imagination, though I suppose you could ponder for a while on the need for a double X…. But, such is the humdrum world…
Update, January 2016: More sadly still, this post is now a historical document… Even the Maxxisave has now gone, taking with it the 'West Indian, Caribbean, Polish, Asian, Turkish, English Food' sign, and the site is now due to become a Turkish restaurant. Oh well, sic transit gloria…