The island of Chiloé in southern Chile is not a place that promotes itself very aggressively in the world, but it is quietly proud of having given the entire world the potato. History traditionally holds that potatoes were first domesticated around 10,000 years ago in southern Peru and Bolivia, where they were first encountered by the Spaniards and brought to Europe, but recent genetic studies have shown that over 90% of the potatoes around the world today are actually descended from specific varieties indigenous to Chiloé, far to the south. And, as Chilotes (Chiloé's inhabitants) will tell you, the island is home to well over 400 different varieties of potato. The amazing variety of native potatoes was noted by Charles Darwin, who called on Chiloé in 1834.
Chiloé – the main island or Isla Grande, commonly referred to just as Chiloé – and the rest of its archipelago are a kind of Spanish-speaking Hebrides, distinct from the rest of Chile and known for a quirky culture that's a distinct blend of indigenous and Hispanic traditions. It's a very green, moist place, covered in thick, boggy forest, fields and yellow gorse, which was introduced to southern Chile by German immigrants at the end of the 19th century as hedges and windbreaks and took to local conditions so well it's become something of a plague. It rains a lot, and can also be fiercely windy. On the inland, continental side of the main island the tides go out for hours, leaving great expanses of marsh and mud. Chilote towns have a remote, windswept, appeal, and the historic capital of Castro with its palafitos or traditional houses built on poles around the shoreline seems to have become slightly trendy recently, with boutique palafito b&bs and positively genteel restaurants and cafés.
Chilotes certainly eat a lot of potatoes, as many as any famously potato-obsessed European country, but all those 400 native varieties seem harder to locate. Many restaurants offer papas nativas or papas chilotas, native potatoes, but generally only of one kind, dark-purplish-black outside and purplish inside, with a tougher consistency and slightly stronger flavour than standard potato types. Having asked about all the other Chilote varieties, I was told I could find them at the Feria Campesina, Castro's no-frills general-food-and-much-else market, at its busiest on Sundays (in Chile, a general market is usually a feria, not a mercado, which is often understood to mean a craft market). The señoras who run the veg stalls around the market, however, again divide their stock only two ways, between what they called papas normales (bog-standard international varieties) and others all vaguely referred to and sold as papas nativas. Even so, it was clear that most of the bags of native potatoes had many more than one kind in them, so any experienced potatologist (?) could have a great time identifying them.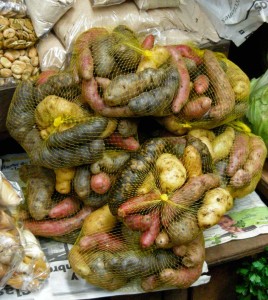 The relative scarcity of the indigenous potatoes of Chiloé (and other parts of southern Chile) and the lack of any marketing structure or process around them is due like so many things to the patterns of modern agriculture. For over 30 years farmers have been encouraged to plant 'normal' varieties to gain access to modern urban and international markets. The market for papas nativas is purely local, and they've never raised high prices. Chiloé probably needs a potato heritage centre and museum, and a determined campaign to proclaim the virtues of and make the most of the island's most historic natural asset. As a start, they could set about making clear which native potato is which, and introduce the kind of precise identification used re traditional foods in Europe. After all, the French, for example, give very different and revered names to cheeses that are far more similar than the different tubers that are all stuck into the same papas nativas bags in Castro.
The shortage of many of Chiloé's famous potatoes doesn't mean that Castro's feria is in any way disappointing. This is one of the greatest food markets you could ever find in a small town. This area's other major product is salmon, and the fish stalls are stunning.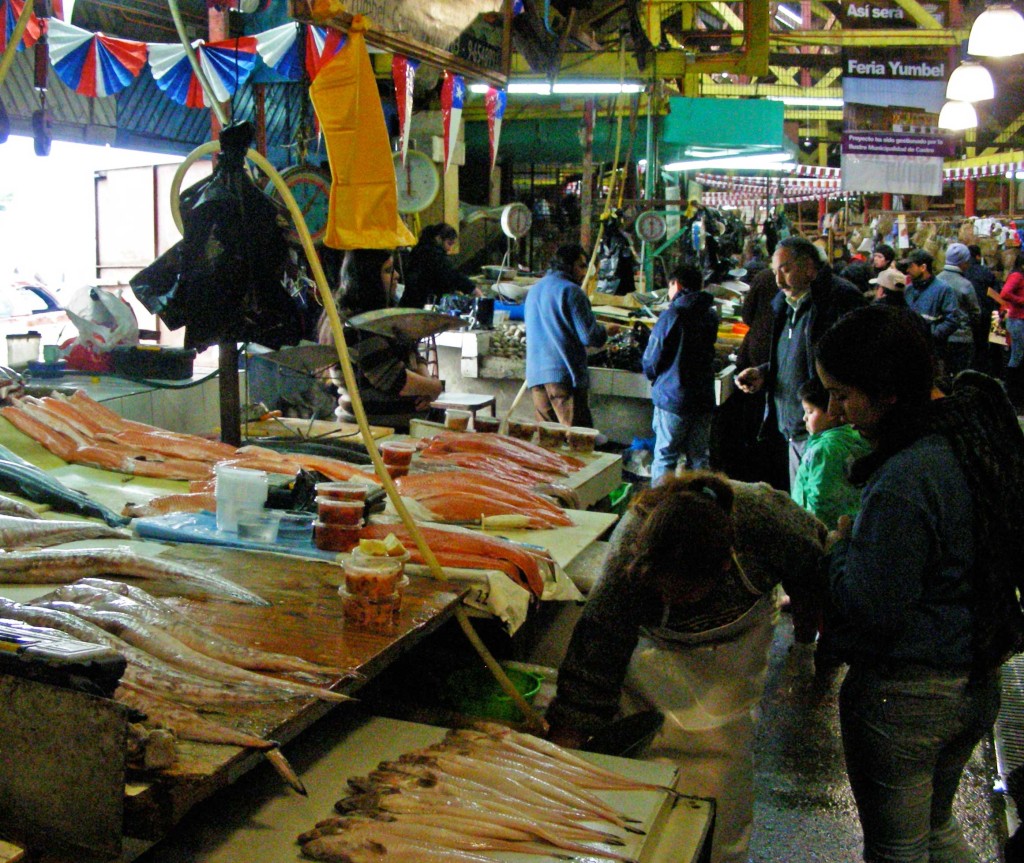 The range of apples, other fruit and vegetables, including giant garlic, is explosive, but Chiloé is also a great place for people who like to eat unusual. The same ladies who sell potatoes also have eye-catching displays of many varieties of… seaweed (algas). There are great bunches of brown cochayuyo, or bull kelp, and green cakes of an inshore weed called luche. The long strands that look like dried peppers I was led to believe were also dried red algae (though I've since been informed, by Eileen Smith, below, that they're actually a dried rock-dwelling sea animal called a piure, another strange local delicacy). When I ask how you eat all these things, I'm told 'you cut them up, and boil them, very simply, and add them with different things… you eat them with meat, fish, whatever you like… They're very good, muy sanos, very healthy'. Seaweed is an old traditional foodstuff of southern Chile, and especially Chiloé, but one that has never yet found it into fashionable cooking (despite a lot of scientific evidence backing up the idea that it is, indeed, very healthy) and so it has remained a food of the poor. One traditional Chilote dish is cazuela de cordero con luche, a stew of lamb, luche, potatoes (naturally), peas and maybe other good things too.
Lamb and seaweed could be the next international fusion dish to hit the world's tables. But, if it does, Chilotes deserve the credit.