There seems to be a fair amount of confusion and a lack of clear information about the possibilities of driving independently around the Torres del Paine national park in southern Chile. Some people still seem to suggest that this is tough to do on your own, and that to get to and around the park you absolutely need to shell out on a 4×4, which will be very expensive.
This is more of an issue if you only have a limited amount of time to visit the Torres – which are a truly stunning, magnificent area, with enough blends of mountain, lake and ice, and constant changes of weather and colours, to keep anyone hypnotised for days. If you have a week or more there, you can see them in the classic way, by hiking, on the celebrated trekking routes of the W (4–5 days), the full Paine circuit (9 days) or other less prominent trails, sleeping in the well-kept refuges along the way. Getting there and back by bus from the nearest town (Puerto Natales) will be only a small part of your trip. If you have only 1-3 days, though, transport and costs are much more of an issue. You could stay in one of the hotels just outside or inside the park, and take day tours, but this will cost. Day tours from Puerto Natales will be cheaper, but you'll have to factor in travelling for at least 1 and a half to 2 hours at the beginning and end of each day just to get to Torres del Paine from PN. The regular Torres bus schedules from PN are also restrictive, with only 1 or 2 services each way per day. So having your own transport becomes much more attractive.
Having recently driven around the Torres in a very ordinary car (a Chevrolet Optra, from Emsa Rentacar of Punta Arenas and Puerto Natales, http://www.emsarentacar.cl/, recommended), here are some comments that might be helpful.
The one and only road from Punta Arenas for over 240km to Puerto Natales (Chilean route 9) is a good two-way fully-asphalted highway all the way. Since other traffic can be seen a long way away you can really rip along. The asphalt continues for another 52km north of PN to Cerro Castillo, where it crosses into Argentina. The other roads that continue towards and into the Torres del Paine are all what in Chile and Argentina are called caminos rípios. These are hard-packed, gravel roads, nut just dirt tracks, and pretty well maintained. They do not throw up huge amounts of dust, or even too many stones, nor do they mud-up badly and develop giant ruts after rain. They are much, much better than real dirt roads such as in, for example, Mexico, which change every time the weather does and can only be driven along at under 20kph or so.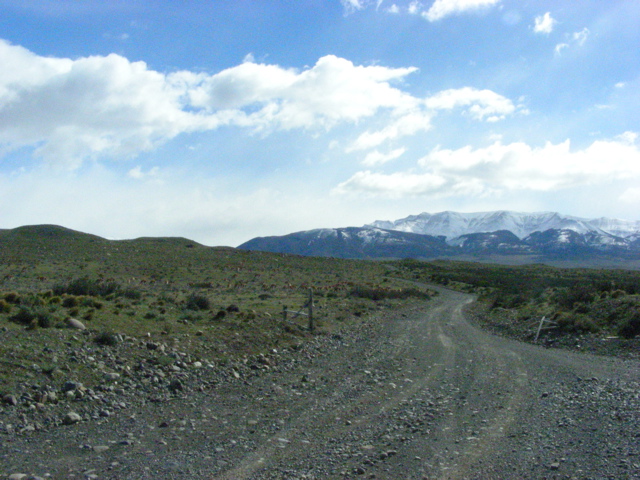 With a standard, very ordinary car you can drive along a camino rípio pretty steadily without taking any risks at around 50kph/30mph or more, in 3rd to 5th gear. You do need to watch out more when it rains, and change gear quite a lot on bends, but it's nothing very hard. You might need to be more careful in the southern summer peak season (Dec–Feb) when there are more tour buses and other vehicles around, and slow down and keep your distance whenever you meet any oncoming traffic, to avoid any stones they could throw up. Anyone dedicated to automatic cars should consider getting a manual, you'll have much better control.
Driving around this way you can reach everywhere in the park you can get to with any vehicle, beyond which the only option for everyone is to hike or boat it. The (considerable) extra expense of a 4×4 will not get you any further. All it might get you is some more comfort and maybe the ability to go a bit faster.
The most direct route into Torres del Paine is on the rípio road that turns west off the main road about 19km north of Puerto Natales, and goes past the Cueva del Milodón to the south side of the park at Río Serrano, with a small cluster of hotels just outside the park that are more reasonably priced than those inside, from where it continues into the park. This will get you to the park entrance in about 1hr 30 minutes. Scheduled buses and much other traffic continue on the asphalt road to Cerro Castillo and then enter the park on the northwest side at Laguna Amarga, which will take much longer, about 2–3 hours driving or nearly 4 on the bus (since it stops, and often waits for passengers). Inside the park the two roads meet up at Lago Pehoe.
With a car it's obviously difficult to take any of the longest hikes but you can try day hikes such the Base of the Torres route from Hostería las Torres (6–8hrs) or shorter routes like the Mirador Cuernos and Salto Grande waterfall track near Hostería Pehoe (an easy 2hr walk from the road, with fabulous mountain and lake views), or the path straight uphill to Mirador Condor, also from near Hostería Pehoe, or the also-steep one to Mirador Ferrier from the Lago Grey hotel. Park wardens and local hotels are very helpful in pointing out shorter routes.
Beyond the road conditions, two other things that are maybe more worth keeping in mind –
Fuel – The last petrol stations going north are in Puerto Natales, so always fill up there (we were charmingly told that, though some maps show a gas station in Cerro Castillo, it hasn't actually been working for some time). You should then have enough to get to and from the park and for about 3–4 days driving around it, in most cars. If fuel runs low, the hotels apparently have emergency stocks, but they'll naturally charge you well over the norm for it.
And another issue – signage. This is erratic. Sometimes roads are indicated by the name of a place that's the least likely of the various options anyone might be looking for, and sometimes the places indicated change along the same road. Hence it's handy to have in mind a few other names close to the one you're actually looking for, in case they're signposted first.
This comes up particularly on one of the minor roads into Torres del Paine. The official park map you're given shows an entrance road on the east side of the park, ending at Laguna Verde, said to be one of the Torres' most beautiful small lakes, surrounded by woods and especially good for seeing birds and animals. On the map it shows a warden's station at the park boundary, by a hotel called Hostería Mirador del Paine. But, if you are driving along the road north of Cerro Castillo looking for this entry road, the only signs you will see will be a very big one for 'Estancia Lazo', and a much smaller one for 'Mirador del Paine'.
If you then, as we did, go up this road, you will indeed see loads of wildlife – especially guanacos and rheas – and after about half an hour of winding over the pampas will come to a rambling ranch, the Estancia Lazo, the cabins of the Mirador del Paine and a big gate across the road. If you got there in season when there were people at the hotel – part of the Estancia, and which specializes in horse-riding trips across the wilderness – you probably wouldn't have a problem, but in early October every part of the Mirador was locked up. Eventually, a very small man in a beret and old sweater appeared and looked at me with unease. Having generally found Chileans very helpful and communicative, more curious about foreigners than suspicious, I wasn't ready for our conversation. Buenos días, I say, ¿es ésta la entrada a Laguna Verde?, assuming he'd at least have heard of it. This is Estancia Lazo, he says. I ask again if Laguna Verde is nearby, thinking there's supposed to be a park wardens' station in the same place. This is Estancia Lazo, he says. I ask about the hotel, but there's no one there. I ask again more specifically about Laguna Verde, and he says it's not here , it's 'over there', waving an arm vaguely behind his back. Where again, do you mean… and he gave me some complicated directions, saying that I needed to turn around, that somewhere along the way there was another turn, and entonces tiene que hacer esto… 4km in some other direction was mentioned at one point too. I still can't figure out what he was trying to tell me, my only interpretation is that he'd been told by his boss that, while there was no one at the hotel, he should just not let anyone go by, and try to get rid of them any way he could. Maybe the boss has an issue with people using his Estancia as an entry into the park. Quién sabe….
Because… we later discovered we were in the right place all the time. Should anyone else wander up this same road and meet the same wee man in a beret, he is having you on, so persist. We were told by wardens at other park stations that, yes, the gate we could see is the entrance to the park we were looking for, and so we had every right to use it. There is also apparently a wardens' station just beyond the gate, but it's not staffed and slightly abandoned, so the symbol on the map is misleading. However, you should be able to leave a car at the Mirador del Paine/Est Lazo and then just walk through the gate, without charge, and then after about 1-2km you should come to Laguna Verde. Apparently it's a fabulous place. Rats.
At least things aren't always predictable.